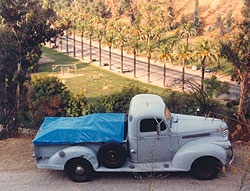 I've been asked about the '41 Jimmy pickup that appears in the Home in October film. I drove it from Los Angeles to Long Island, in 1980. Its owner (Richie Gilks) was contemplating a return back East (after completing that musician's ritual rite of passage – a period of living in LA for a few years). I was on the verge of leaving America for good and needed to transport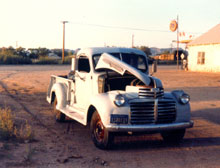 my three foot lockers of film (75 hours worth) to the East Coast, prior to finding a way to get them back to England. So the deal was that I would deliver the vehicle in return for using it as my carrier. The physical cargo was, quite clearly, a large slice of my life. Given that the truck hadn't been out of California for most of its life and now was facing a load carrying trip over 3,000 miles, through deserts and over mountains, there were a few anxieties in the air. This set up had all the ingredients for the start of a Twilight Zone story.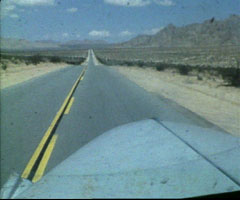 In the end, there were no big catastrophies – just the steady, ongoing anxiety of listening to the engine mile after mile for any new (and threatening) mechanical noises. Standard driving procedure of the time. It was quite a basic drive (as was to be expected – though not quite of the era as an Advance and Retard lever, which I had on my first car, along with a Town & Country horn), and there were nice touches like a windshield that was hinged at the top and which could be opened out to promote air flow through the cab – very handy in the desert.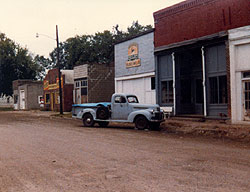 Not too surprisingly, driving into small towns in the midWest (I tended to take back roads and sleep alongside the truck at night) in a working '41 truck with California plates, created small pockets of interest. It seems to be a human trait to enjoy seeing old things still useful and working, which is probably connected to our own desire to have a long and productive life.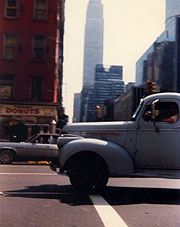 It got a bit tougher around Iowa as the brake hydraulics were quite perished and I had to start replenishing a leaking system. By the time I'd gotten to Philadelphia the brakes were totally shot and I then had to drive on to eastern Long Island on the handbrake. The least stressful section of this leg of the journey was driving through Manhattan – a perverse advantage to crowded, slow moving streets. But I made it to East Quogue – truck and film intact – and moved into a small trailer I'd bought earlier, which was parked in the yard of Richie's brother Mike. And that was my last coast to coast.