I'm well aware that today is April Fools' Day, though have made no apple pie beds myself. All the same, how about this for a catch phrase or sub-text to describe Road Dreams – 'Far superior to Prozac'. It came as a third hand quote in an email. Perhaps the t shirt would be the location to place it? Nothing like claiming to have a more positive effect than one of the most widely ingested drugs known to mankind.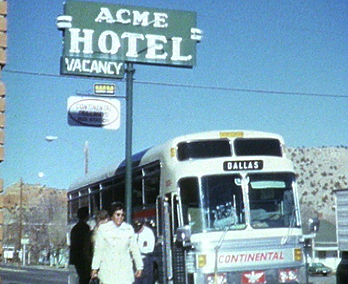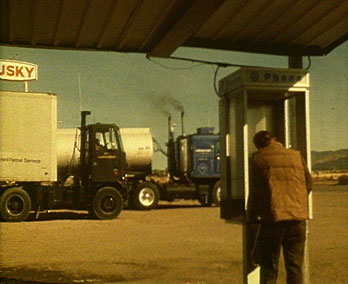 This last month has seen a bit of a production detour, though not an aimless one. I've now completed a box set of RetroRoadTrips iPod files. The impulse for this arose from having acquired my own iPod touch (after having previously borrowed my neighbour's). The screen size has been something of a revelation where the quality of the image is concerned. There is no intention to move away from the PAL DVD production – DVD is for shared viewing and the iPod for the solo sort (and the DVD set will contain both types anyway, on separate discs) – but the iPod touch experience did set me to thinking about how I might set about trying to publicise the RetroRoadTrips project when the website shop is open. For a site that has had no deliberate publicity efforts made on its behalf it really does quite nicely, but an extra effort will have to be made to coincide with the shop opening. Putting together an NTSC DVD is just too time consuming and costly (at least until Codachrome is finished). So the partial epiphany was that an iPod disc would be a way to mail out demos, especially to America (where Road Dreams has never been seen). Here's a couple of images of what the box looks like. (I'm well aware that I'm unlikely to develop a career as a pack shot photographer.)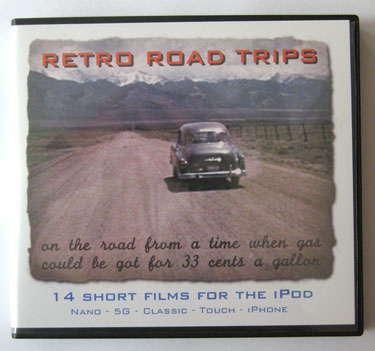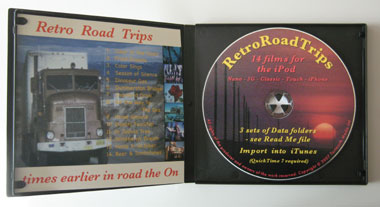 The technical details of what encoding formula works best – the trade off between file size and quality – are, as usual, hardly worth recounting (other than mentioning the, by now, standard mental seizures it all engenders – plus the time taken to sort it all out!). My solution has been to provide three different file types on the one Data DVD, to address those two objectives separately. Let the viewers decide for themselves is the aim.
And thank you to those of you who leave comments from time to time – it helps to establish that these entries do get read. I also occasionally come across other strands regarding Road Dreams, and here's one that I read recently. An appreciative nod to Nige of the Old Hangar.
I hope to post a much shorter list of 'jobs to completion' within a few weeks.