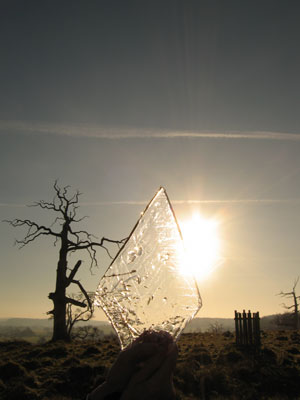 Some of you may well already know that Jack Kerouac typed the initial version of On The Road on a 127 ft scroll, finishing the task in just two weeks of intense effort. This scroll is quite a famous artefact and, thanks in large part to the efforts of Dick Ellis of Birmingham University, is currently on display at the Barber Institute there (until January 28th). I went up to give a talk on how my own travels were first prompted through contact with On The Road. I first read the book in 1958 and became fired up on the possibilities of the road life in America. As this website will attest, I'm one of those lucky people whose fantasy lived up to expectations.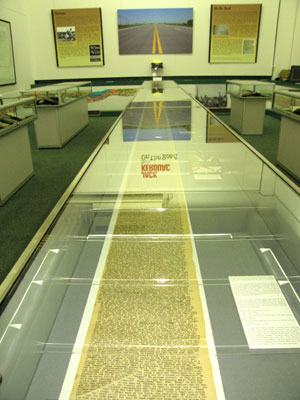 If you are in even any sort of visiting distance of Birmingham I do recommend a visit. My main reaction when viewing the physical size of the scroll was how it was able to impart something of the creative flood involved. Kerouac (whom it seems was a red hot typist) would have had the words of this story flowing almost nonstop from his fingers – an observation reinforced by the fact that there are very few typos and corrections.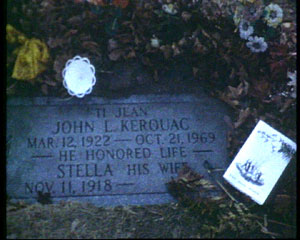 Catch-22 is another well known book, though for most of us Yossarian's dilemma is the point of reference. My own current catch-22 is to report the rather dispiriting detail that sales of the RetroRoadTrips DVD haven't yet reached the necessary level to fund the next stage, which is to finish Codachrome – a time of road dreams. One project funds the other in a step by step progression is/was the plan. This is not to say that sales have been negligible – it's just that, even at the 'one man in a room' level at which I operate, costs are considerable. To give you some indication – the clearances for (limited) use of six quotes from On The Road cost $1,000 a quote; or, producing 27 tracks of original music has required around £11,000 (including studio time); and so on. I now need £8,750 to complete Codachrome and somehow this doesn't seem like a particularly opportune moment to be looking for money. So, are we disheartened? Yes. Will this stop the project? No (though it will probably slow it down even further). Here's the newly minted, readjustment to reality plan.
I'm going to add a Download option in the RetroRoadTrips website shop, allowing visitors to download individual films or music tracks (this assumes there will be a cost effective way to collect small payments). Perhaps an ancillary income stream will be the result? I also have a proposal circulating for a book of still images (frame grabs) taken from the film.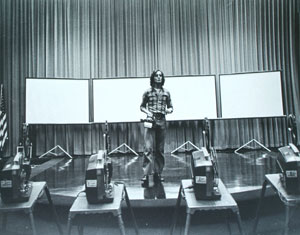 Beyond that, I'll start in on the edit of an online version of the earlier 4 screen travelling film show that I used to take around America in the 1970's. All the material is existing and so this shouldn't be too costly (other than my time). I've only recently discovered that it's possible to place more than one image for viewing in the Final Cut Pro Timeline, which counts as a breakthrough of sorts. This version will be only 3 screens, otherwise the aspect ratio for 4 would be 16×3 – too stretched for a computer screen. The viewing advice I gave to audiences back then was to treat these screens as the windshield of a car (the content on the 4 screens was divided up by the 4 Time Zones of America). The film was comprised of music and images – no narration, other than the introduction – to give the feeling of being in the car and going down the road. This notion was always well received in those early days and I've no reason to think that reaction will have changed. More on this later – a short clip will be posted on the site as soon as I can get it organised.
I'm also still in the throes of organising production of the Road Dreams t shirts. There's been quite a learning curve involved. Early trials showed that the image faded far too quickly after washing, so I've experimented with Direct to Garment printing. This is a fairly new process in the t shirt world, though the extra effort (and cost) do seem to be worth it. I'm waiting on what I hope will be the final trial (even the brand of t shirt makes quite a lot of difference to the reproduction quality), and hope to offer a white or black t shirt choice after Christmas. Apologies to anyone who had wanted to give one for a Christmas present.
And that's it for the moment. Things rarely work out as planned. The ingredient that doesn't change is the requirement to 'keep on keeping on'.
Elliott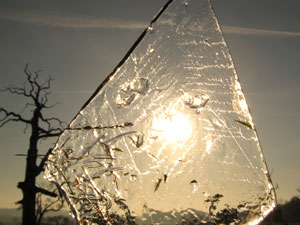 By: richard on
November 23rd, 2008
Hi Elliott, congratulations on the DVD, it is wonderful to revisit the images of Road Dreams again, it looks fantastic, and brilliantly presented. What a great thing you have done. Also reading the comments about "Written in the West", are you also familiar with Stephen Shore's "Uncommon Places" and "American Surfaces"? Some of the images could almost be stills from Road Dreams, he was probably travelling at the same time as you. One thing he said: "I remember thinking it's important to put cars in photographs because they are like time seeds…"
Looking forward to seeing Codachrome…
Best wishes
Richard
By: Nigel Mason on
November 24th, 2008
My discs arrived a week or so ago and I am pleased to see that they are as good as I had hoped. The resolution is better than expected, very much better than my old VHS tapes, and the music is as good as ever.
I also find that the passage of time has given much of the footage the wistful, slightly melancholy, elegiac quality of a world gone forever.
Beautiful stuff. Could become a cult classic.