Comments


As we enter the era of high definition TV, the saturated Kodachrome Super 8 format has become even more visually appealing. Its glowing warmth and modest scale is a welcome change from xenon plasma powered boastful video images, now with HD hyper-sharpness.
Aidan
July '06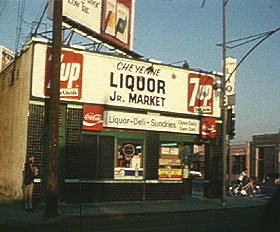 1. I remember Road Dreams when it was first broadcast on Channel 4 – it was an unforgettable series. It was elegiac and bore comparison with Laurie Lee's "As I walked out.." Elliot's eye for detail makes the ordinary appear extraordinary, every shot deserving of a story on its own and accompanied by a stunning soundtrack. I look forward to the DVDs!
Mike
Sept '07
From: Live Film Shows
2. First saw this years ago on Ch 4 and fell over in a faint. My country, through the eyes of a 'seeing' man. Fantastic. Homesickness in big dollops. Couldn't get enough of it. Spread the news, had others in tears. Thanks Elliott.
Mary
Sept '07
From: Live Film Shows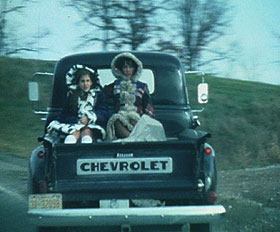 3. I've been trying to think of a way to describe how these films effect me, and the closest I can come up with is that you have captured the scenes and atmosphere so well it almost seems that I'm watching memories I feel could have been my own, even though I know they aren't. It's almost like being transported by a great book to somewhere that doesn't exist – but ought to.
Barry
November 08
From: email
4. I just sat, mesmerized, and watched Elliott Bristow's Road Dreams. Words fail me. I found it incredibly moving (and I don't mean that as a pun, given its subject matter). There's so much in it that resonates with me. The shot of the Continental Trailways bus, for instance. I used to take one of those almost every Friday night, from New York to Philadelphia to spend the weekend with Lesley. I moved to the States in 1973, right when Bristow was in the middle of his marathon trip, and a great deal of what he filmed looks familiar. Back then, America was a magical place to me, full of promise and excitement. It was the best time to be there. And "Road Dreams" brought it all back.
Sept '06
From:email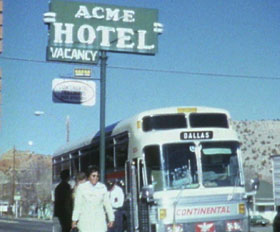 5. ……and there was at least one particularly beautiful woman who featured, although her name is lost to me despite a vision of her swimming and giving the camera a smile that would have brought Paris back to steal her again if her name had been Helen…
Kevin
Jan '06
From: email
6. As I started watching, I realised that you'd seen (and lived) exactly everything that appeared on the screen. It was a strange and beautiful thought.
Tim
March '06
From: email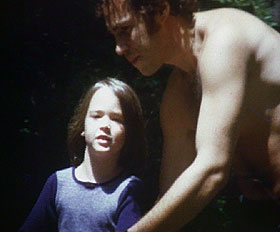 7. Your diaries rejuvenate the spirit and I don't like being without access to them.
Jim
Sept '04
From: email
8. Elliot, all your work must appear on television again and again, it's wonderful. To think that when you were filming in '68, Here's Lucy, The Doris Day Show, Rowan & Martins Laugh-In, Hawaii Five O, Magpie & Dads Army all premiered on tv. Mary Hopkin appeared on Opportunity Knocks, the Ford Capri was about to appear and the crew of Appollo 8 believed in Father Christmas..
John
Sept
From: Current status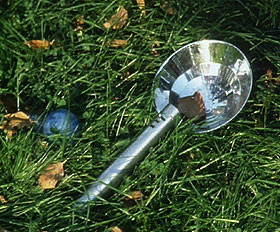 9. ……but the charm of Road Dreams is that it is so uncomplicated.
David
Sept '06
From: email
10. Hi Elliot..Like many, many others I'm delighted to see that the Road Dreams dream is not dead..For the last couple of years it seemed that failing VHS copies of the original were all that was about..fantastic that you are doing your thing..still..even now watching the snippetts etc. has a real emotional pull for me..and as for the Kerouac reading..brilliant.. ..I think it would be well worth providing a page where fans?such as myself could explain what the series meant to us..and why we are so grateful to you for bringing this "thing" back to life.
Mike
Sept '07
From: Current Status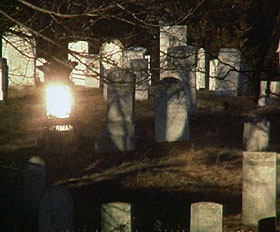 11. I'm sure you didn't realise at the time that the films would become such an important mirror of those years, when the post-war world was changing for ever. Despite all the celluloid produced over there, nothing comes close to capturing those times as well as Road Dreams.
Richard
Sept '07
From: email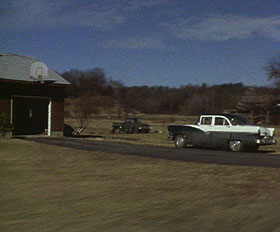 12. Just enjoyed watching the Dinosaur Gas and Joshua Tree clips. Beautiful. The sound effects really add a new dimension, and the snippits of footage that I don't recognise from the original Road Dreams programmes only serve to tease for what else is to come.
Simon
Aug '07
From: Current Status
13. It was your footage that fired my enthusiasm for Super 8 film, and I just can't give it up now…
Ben
Aug '07
From: Current Status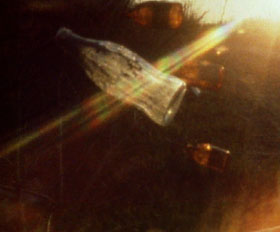 14. Are you the Mark Bristow mentioned in an old Super 8 Filmaker?
Whatever happened to Mark Bristow
Jim
Aug '07
From: Current Status
Yes I am. My full name is Mark Elliott Bristow. I started using Elliott around 1976. The motive grew out of my being on a lighting rig one day, and when someone called out 'Mark' the three of us on the rig looked up. It was also about the time that the film came to be called Road Dreams. Before that (early 4 screen days) it was known as Mark's America – which didn't exactly help the cold calling sales pitch when I was trying to sell the show by phone. But that's a useful attribute to keeping a diary; it allows the diary keeper (and film) to change tack.
I only recently discovered that the writer of the 'What happened…' article is Chris Cottrill, editor of Super8 Today. If you're at all interested in Super 8, I can recommend this magazine.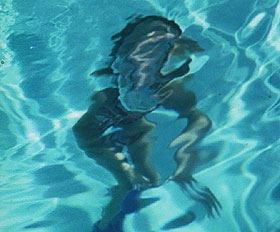 15. Hi Elliot, I am a disciple of your beautiful films which I watch on repeat very often, and I swear it's a different uplifting entrancing and more enlightening journey EVERY time. And that's before the glass of wine. I look forward to the DVD's. Thinking about it maybe I should set up multiple screens like your college show, each with an episode on looped playback? Heaven. Elliot you have done it, won our hearts and minds.
Matthew
Sept '07
From: Live Film Shows
16. It left an indelible impression on me when it was shown on TV. Beautiful, evocative, melancholic…..
Stephen
June '06
From: email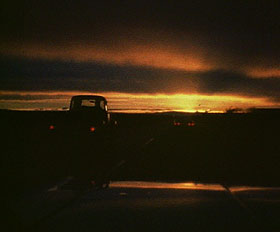 17. Just thinking about Road Dreams makes me want to to throw everything into a bag, fill the tank and turn the car towards the open road and the sunset.
Miles
Oct '06
From: email
18. …..I love its simplicity and originality; I think it works so well in the same way that O.Winston Link's photography works. They are a personal record of a lost time.
Patrick
March '07
From: email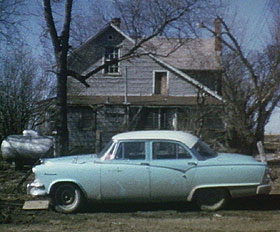 19. I was sitting in a cafe in Santa Fe and just heard this music, saw the opening shots of Road Dreams in my mind, rushed to the counter and asked what it was – Leo Kottke's 'Machine #2' – then went next door to a music store where I bought the CD immediately, and have been looking for the film ever since. It was great to find that so many people feel like me, and that it was memorable and groundbreaking. Thanks.
Hilary
Dec'06
From: email
20. Road Dreams must be for many people a perfect way not only to remember their own experience in the States in the '70's, but also a better way to explain it to people than a failed "you had to be there." More than that, it has to be one of the best memorials (probably not the best word) of this era.
Allan
Aug '06
From" email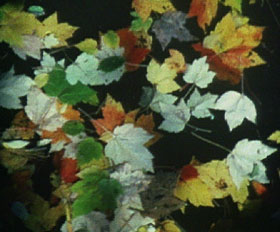 21. Like many others I loved that series and have watched it countless times. In fact, I always think I know every part and every bit of music yet still notice something new.
Baz
April '07
From: email
22. I've travelled across the US a couple of times on the Green Tortoise and there's very little that can recreate such an experience for me back home in England. Road Dreams is one exception.
Simon
Feb '06
From: email
23. ….while hiking the Appalachian Trail in 2000, my partner and I found a copy of On The Road and would take turns to read a chapter aloud as we went to bed. When I heard the words "We passed Las Cruces in the night and arrived in Arizona at dawn" I could see the Road Dreams images in my mind and hear the narration – so evocative, touching and fitting to the mood were they.
Roland
Sept '06
From: email
24. Fifteen of more years back I watched your first series of Road Dreams and was blown away by it. I still watch it at least once a year to remind myself what I love about the world, filmmaking, colour and light…….
Ben
April '06
From: email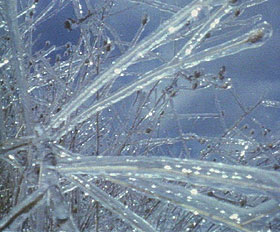 25. I spent ten years in North America in the seventies, and travelled many thousands of miles in both Canada and the USA. Every time I watch the part of Road Dreams which I have it brings back wonderful memories, of great cars and wonderful scenery. Myself and many friends think that Road Dreams is very special, a work of which you should be so very proud – evocative scenery and beautifully arranged, sympathetic music – one can feel the nip of the frost and snow, feel the heat of the sun and recall the smell of sixties American cars whilst watching it.
Ralph
Feb '07
From: email
26. As we head into 2007, Elliott's record of '70's sights and sounds just becomes more valuable, I reckon.
Dave
Jan '07
From: email
27. Wonderful stuff – for years I thought I would never see the utterly fascinating genius of "Road Dreams". My late father once described RD's as Alistair Cooke meets "The Waltons" on "The Old Grey Whistle Test" … in a world of increasing monoculture and mediocrity, I for one, look forward to wholeheartedly supporting this seemingly Don Quixot of an enterprize. Thank you for, yet again, sharing your dreams with 'us' Elliott…
Big Al
Nov '08
From: Nov 5th (is not that far away)