Live Film Shows
As detailed more fully in the 'Super8 to Final Cut Pro' article, I made a living (of sorts) by showing a 4 Screen Film of my travels, incorporating the same footage that is now seen in RetroRoadTrips. My circuit was mainly at colleges, and the venues (which were often lecture theatres) were often just right for this sort of show. But there were also other locales where I'd arrive on a bright summers day and find that I was expected to set up my projectors in a cafeteria with two walls of large windows where most of the blinds were missing, and with the first three shows scheduled for mid-afternoon. At such times it was natural enough to indulge in daydreams of how I would like to present the film, influenced no doubt by feature films I'd seen which were set in countries in which a travelling film show comes to a village where there is no other form of entertainment. Below is the movie script setting for my Fantasy Film Theatre.

'Road image neon sculptures glow softly on a dark green, canvas tent wall, enclosing a temporary film compound. Beyond the wall, reaching up into that blueblack, star starting night are the silhouettes of three buttes. Sudden recognition here and Yes, the gut reaction was right – they do have movie meaning because we're in Monument Valley. Which is no surprise to the Navajo sheep herding family who are waiting patiently for the performance to begin, as are (though not quite so patiently) the UniLever
executive with his wife and two children from Chagrin Falls, Ohio, whose 37ft Pace Arrow Ponderosa Motor Home is temporarily out of action with a malfunctioning microwave oven. Up front, in somewhat solitary eagerness, is the Activities Director for the YMCA in Shensii City, Japan. He's cycling, rather intensely one might be inclined to judge, to Mason City, Iowa to hand deliver a Sister Cities proclamation. All of them are waiting for the show to begin. Then, with only scant warning as the generator kicks in, up there on the screens colour and shapes are swirling and puslating as rapidly as a spring melt river. Ten years of a life condensed into 26 minutes. It's all just a moment really, and look how full it is!'
Needless to say this scene didn't take place, though there were plenty of times which were just as effective, even if they weren't in quite such an exotic locale. Different audiences have different interests, of course. At a show I did on the Blackfoot Reservation at Devils Lake, North Dakota, the interest was mainly in the horses shown. When I tried (unsuccessfully) to interest Detroit in subsidising me one time, my preview audience of auto industry executives were quite taken aback with how many old cars there still were on the road in America. In similar vein, at the headquarters of Coca-Cola in Atlanta (Yes – there really are 'water' fountains that dispense Coke), there was a ghastly moment when a Pepsi sign appeared on the screen. I even had a woman at a show in Phoenix who recognised her old house in a suburb of Boston.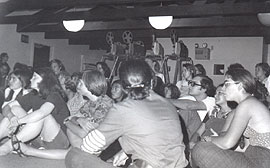 All of the above seems to demonstrate that melodic scenes from the everyday, when recorded without a message or political point of view in mind, do have a range of contact points for a wide set of audiences. For myself, as part of getting older, there is by now a more pressing knowledge of that abiding wistfulness in all beauty.