Location Quiz
Location Quiz
Quiz Page 1 – Pretty Certain: Clues
Quiz Page 2 – Or Thereabouts: Clues
Quiz Page 3 – Who Knows
I'm sure that one of the motivations for my keeping a film diary has to do with having a poor memory for events, though I do seem to be able to recollect colours. Whereas my wife remembers how we first met in 1961, I remember the blue of the dress she wore that evening. I can also find my way back to places visited some years before, though that doesn't mean I could give you directions.
Where the diary is concerned, and as many of you know from your own road trips, roadside scenery rolls by in an unfolding, often seamless panorama. So how to identify single scenes at a later time? With this quiz you can try yourself out in this skill. No prizes offered I'm afraid, partly because we* aren't always 100% certain ourselves. Also, some of these scenes I know for a fact no longer exist.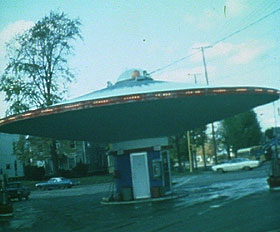 Ashtabula, Ohio – 'phoned home' a while ago
All the same, even if the answers don't roll off the tip of your tongue, there is always the chance that the places depicted will fire up your own road longing. Add the additional ingredient that visiting movie locations is the contemporary equivalent of the 18th Century Grand Tour, and the thought has to be – don't you warrant a Grand Tour of your own?
Steve Mainwaring* thinks so. Steve is the source I rely on to establish the naming of places. He enjoyed Road Dreams enough during its screening in 1989 to establish a pattern of taking holidays in America, searching out Road Dreams scenes as he travelled around. What a useful combination of entertainment and purpose to layer onto a holiday.
Anyway, none – or all – of the above may apply. Just enjoy the process of looking back (and if this sets you off to 'remembering', why not share your own road stories in the Visitors' Stories section).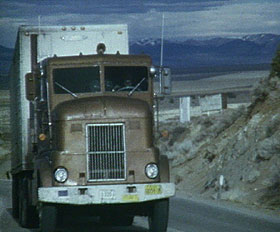 1945 Peterbilt on Rte 50, nr. Austin, Nevada
There are three categories.
1. Pretty Certain: This means, mainly thanks to Steve, that the location details are pretty accurate and specific. Click to go to Quiz Page 1.
2. Or Thereabouts: Much less specific. Try and guess the area of the city, or even just the state we're in at the time. Click to go to Quiz Page 2.
3. Who Knows: Just don't know, though I might be able to provide a rough likelihood. And if you could tell us, that would be a bonus indeed. Just enter the details in the dialogue box at the bottom of the page – and many thanks. Click to go to Quiz Page 3.